THE SUNNY SIDE OF THE MOON: THE BEST OF RICHARD CHEESE – FIRST TIME ON VINYL, OUT NOW!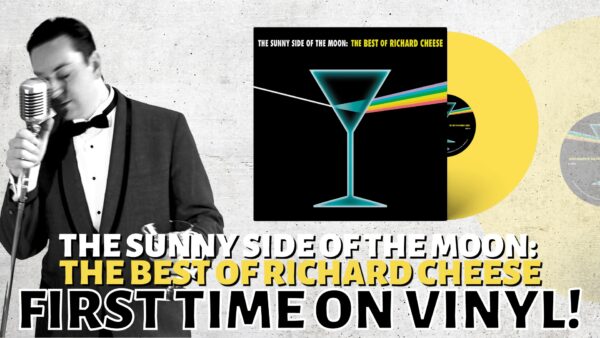 Richard Cheese, lounge singer of your favorite rap/rock songs, has released his greatest hits on vinyl for the first time! The Sunny Side of the Moon: The Best of Richard Cheese is now available everywhere. Order HERE!
Richard Cheese's songs have been featured in the movies "Barb & Star Go To Vista Del Mar," "Army Of The Dead," "The LEGO Batman Movie," "Batman v. Superman: Dawn Of Justice," and "Dawn Of The Dead," on HBO's "The Leftovers," and on ABC-TV's "Dancing With The Stars." He's performed on Jimmy Kimmel Live, CNN with Anderson Cooper, ITV's The Jonathan Ross Show, Jack Black's "Festival Supreme," England's "Sonisphere" Festival, MTV's Say What Karaoke?, KROQ's Kevin & Bean Show, Howard Stern, The Jonathon Brandmeier Show, Dr. Demento, and as the house band 20 times on NBC's Last Call with Carson Daly.
With his snappy jazz trio, his tiger-striped tuxedo, and his enormous microphone, lounge legend Richard Cheese presents the perfect mix of music, martini, and madcap. Viva El Queso!