Surfdog Unites With Drake Bell for Major Strategic Partnership
FOR IMMEDIATE RELEASE AUGUST 21, 2012

SURFDOG UNITES WITH DRAKE BELL FOR MAJOR STRATEGIC PARTNERSHIP

AWARD-WINNING MUSICIAN/ACTOR READIES FULL LENGTH SURFDOG RECORDS DEBUT
MUCH ANTICIPATED NEW ALBUM DUE IN 2013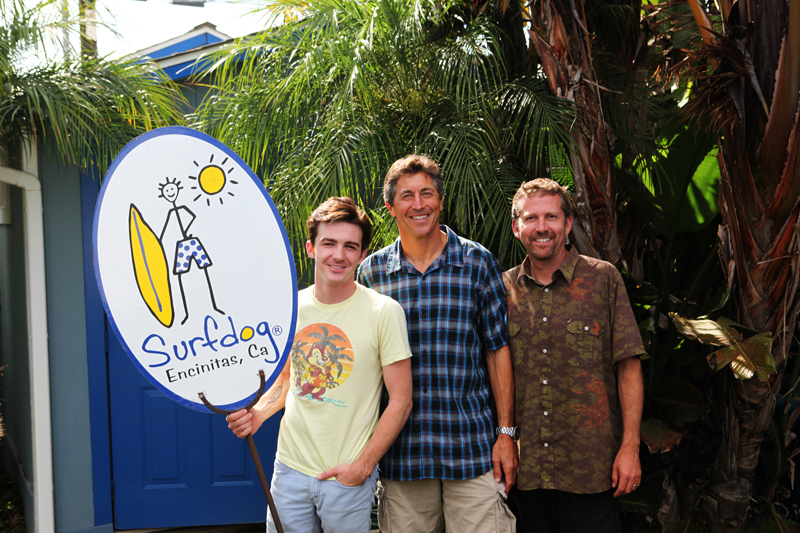 Surfdog is proud to announce its new strategic partnership with multi-talented musician/actor Drake Bell. The deal will comprise recordings, merchandising, live music performances, and other creative initiatives. Bell is currently hard at work recording his Surfdog label debut, with release scheduled for early 2013.
"I've known Dave and the people at Surfdog for a long time now and they are a great group of music loving people," says Bell. "When it was time to begin the next phase of my music career, I knew that's where I wanted to be."
"We are excited to be working with Drake, who is one of the most talented and motivated young artists I've ever met," says Dave Kaplan, President of Surfdog. "Drake has some very focused musical ideas that fit well with what we do here at Surfdog, so making this deal was a no-brainer for us."
"Drake is an awesome talent and we're all impressed with his writing, performing, and enthusiasm," adds Surfdog General Manager Scott Seine. "We're stoked to be working together!"
An extraordinarily versatile artist, Bell's career kicked off with roles in a number of iconic films, including Jerry Maguire and High Fidelity (in which he memorably portrayed the young "Rob Gordon"). He received his first guitar lessons from the legendary Roger Daltrey while the two co-starred in 2001's Chasing Destiny and quickly began writing and performing his own original songs. Two full-length albums followed, 2005's independently released Telegraph and 2006's It's Only Time. Allmusic awarded four-out-of-five stars to both collections, praising Bell's "knack for charming, well-crafted pop tunes" as well as the "vintage sound inspired by Abbey Road Studio." Bell toured often, selling out venues around the world with his classic but contemporary brand of melodic pop rock 'n' roll. An inexhaustible songwriter, Drake unveiled a series of new songs online before releasing 2011's A Reminder EP, produced by John Fields (Jellyfish, Rooney, Jack's Mannequin).
Bell is of course best known to a generation of fans as one of the eponymous stars of Nickelodeon's smash sitcom, Drake & Josh. The long-running series made Drake an international household name, spawning three highly-rated TV movies and a hugely successful soundtrack collection highlighted by Bell's original opening theme, "I Found A Way." Bell proved one of Nickelodeon's most popular and resourceful stars, winning a total of 10 Kids Choice Awards, both here and abroad. He recently paid homage to the network by starring in two live-action films based on the network's animated series, The Fairly OddParents. In 2008, Bell received the 2008 Teen Choice Awards' "Choice Breakout Movie Actor" surfboard, honoring his leading role in the hit comedy, Superhero Movie. Drake is also a hugely in-demand voice actor, currently starring as "Peter Parker" on the breakthrough animated series Ultimate Spider-Man.
Known for his philanthropic activities, Bell actively supports The Thirst Project, a nonprofit movement of high school and college students who are raising awareness of and bringing solutions to the global water crisis. Together Bell and The Thirst Project have worked to provide safe, clean water to thousands of children in need. In 2010, Drake was honored with the Pioneering Spirit Award, the highest honor The Thirst Project accords any individual. Please visit facebook.com/ThirstProject for more information.
For additional news and information, please see surfdog.com, drakebell.com, facebook.com/bell.drake, twitter.com/DRAKEBELL youtube.com/officialdrake, and myspace.com/drakebellonline.
About Surfdog: Surfdog Records and Dave Kaplan Management are part of a broad-based entertainment company founded in 1985 by Dave Kaplan. Located in Encinitas, CA, the entertainment group also includes: Surfdog Music Publishing & Licensing, Surfdog Entertainment Marketing (SDE) and Surfdog's Java Hut. The label's passion for music includes an eclectic array of genres. They have released over 100 albums, by artists such as Brian Setzer, Glen Campbell, Joss Stone, Dave Stewart, Stray Cats, Butthole Surfers, Slightly Stoopid, Richard Cheese, Dan Hicks & the Hot Licks, Gary Hoey, and many more. In addition, they've released several soundtrack albums, including The Endless Summer II and Step Into Liquid. Surfdog artists' music has been prominently featured in numerous top-line motion pictures, commercials and television shows. Surfdog is proud to be an ocean-conscious company whose motto is "Please Help Preserve Our Oceans," something they do daily in their support for Surfrider Foundation and involvement in the local community.