SUBLIME PARTNERS WITH Z2 COMICS FOR AN ORIGINAL GRAPHIC NOVEL CELEBRATING THEIR ICONIC LEGACY – SUBLIME: $5 AT THE DOOR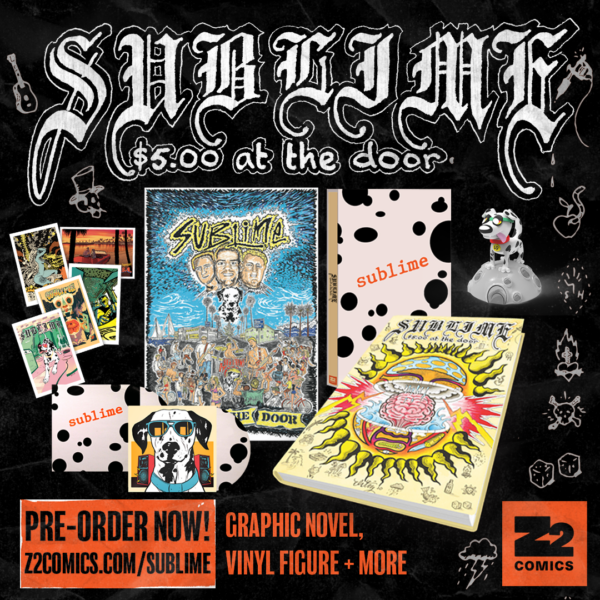 The legendary SoCal band announces their first-ever graphic novel available to preorder NOW featuring special editions with covers by longtime Sublime artists Opie Ortiz and DJ Product ©1969.
The graphic novel chronicles the misadventures of one of the most defining bands of the last three decades, the Long Beach, reggae-punk institution, SUBLIME! The laid-back Long Beach trio spawned an entire genre—fusing reggae grooves, punk grittiness, ska energy, back-porch folk introspection, and hip-hop swagger. Those disparate sounds first collided back in 1988, when the gregarious Bradley Nowell paired up with a sturdy, simpatico rhythm section—bassist Eric Wilson and drummer Bud Gaugh—and quickly amassed a cult following in the SoCal scene. Sublime found their niche at house parties: uniting Rastas, surfers, skaters, frat boys, cholos and ink-covered outcasts with a free-flowing melting pot approach that, much like the region itself, was impossible to pigeonhole. The band goes from playing backyard parties and selling cassettes out of the trunks of their cars to creating an entirely new and revolutionary blend of chart topping music.
Decades after Nowell's untimely death, they remain an institution: They've sold over 20 million albums to date; their music still fills the airwaves and their merchandise, emblazoned with the iconic sun logo, dominates sales at retailers across America. Most importantly, the music remains timeless—a rite of passage for misfit listeners who refuse to color within the lines of conventional genre.
The 'SUBLIME: $5 AT THE DOOR' graphic novel clocks in at 120 pages and will be released in a standard softcover edition in comic shops and bookstores alike in June 2021, with a hardcover, special deluxe edition, and highly limited super deluxe edition available for preorder now exclusively through the Z2 website! Deluxe and super deluxe edition include a special first-time vinyl edition of the Doin' Time EP, unavailable elsewhere, as well as exclusive prints, Lou-Dog toy and more!