Slightly Stoopid
Artist image: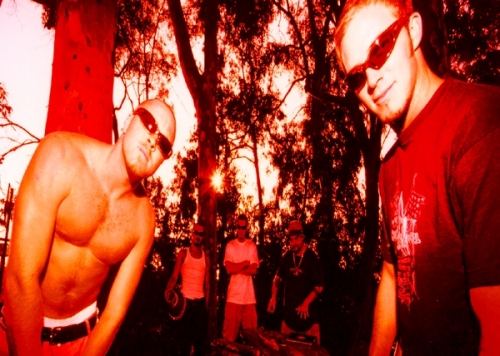 slightlystoopid.com | Facebook | Twitter | MySpace | Amazon.com | iTunes
Slightly Stoopid was formed in 1995 in Ocean Beach, California by childhood friends Miles Doughty and Kyle McDonald. Soon after, Sublime front man Bradley Nowell discovered the duo and asked them to perform a set at the Foot Hill Tavern in Long Beach, California. Nowell immediately signed them to his label, Skunk Records, while the band was still in high school. A pair of releases soon followed; 1996's punk-tinged Slightly $toopid (featuring a guest appearance by Nowell on the song "Prophet" – later covered by Sublime and released on their box set, Everything Under the Sun) and 1998's surf-inspired The Longest Barrel Ride.
The group self-released 2001's Acoustic Roots: Live & Direct (a 40-minute acoustic set, captured live at San Diego 's Rock 105.3 radio station) – the first for their own label, Stoopid Records, before issuing 2003's Everything You Need on Surfdog Records (a musical departure for the band, that sold more than 185,000 copies).
The group has toured frequently since its inception, including appearances arts festivals such as Coachella, Harmony, Lollapalooza, Austin City Limits, and New Orleans Jazz Fest. Additionally, the group has played sold-out shows in Australia, Japan, Guam, Portugal, Denmark, the UK, Germany, the Netherlands, and the Dominican Republic. "Without [the fans], we'd just be playing at the bar," admits Kyle. "They make it worth our while – when we go out and people are having that good of a time, the energy goes back and forth. Just a good time – we rely on each other's energy."
The band's seventh studio album, "Top of the World", was released on August 14, 2012. The seven-piece band continued to explore a variety of styles with help from some of their biggest influences and heroes including: reggae legends Barrington Levy and Don Carlos of Black Uhuru; "unofficial 8th member" Karl Denson of Greyboy Allstars; longtime band friend and touring partner G. Love; Fishbone frontman Angelo Moore; ex-Jurassic 5 emcee extraordinaire Chali 2na; Dumpstaphunk's Ian Neville; and hit-making singer/songwriter Angela Hunte.
The album entered the Billboard 200 at a career high No. 13 as well as on Billboard's Independent Albums chart at No. 3. Top of the World also debuted on Billboard's Rock Albums and Alternative Albums charts with a final position of No. 4. Following the album release, the band performed on the "Red Bull Sound Space at KROQ" on August 23, followed by appearances on tastemaker indie music website Daytrotter and SiriusXM. The group also appeared on Jimmy Kimmel Live! on September 12 to play their current single, "Top of the World." Their most recent album, "Meanwhile Back At The Lab," was released June 30th 2015.
Check out the always-full tour page at
http://slightlystoopid.com/tour
Slide Show: