SIRIUSXM PRESENTS A HOMETOWN CONCERT WITH THE STRAY CATS ON AUGUST 2nd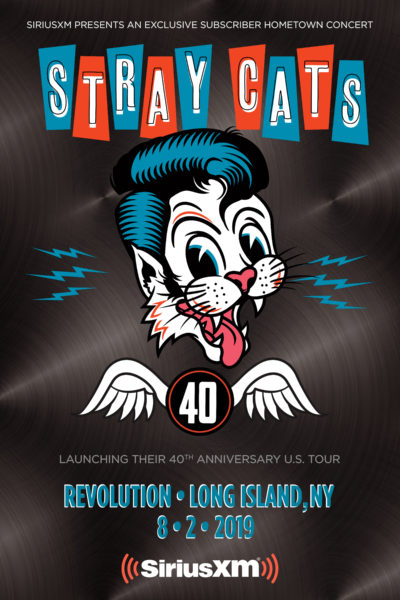 The Stray Cats kick off their highly anticipated 40th anniversary U.S. tour on Friday, August 2nd near the band's hometown of Massapequa, New York on Long Island. This performance is an intimate invitation-only show for SiriusXM subcribers at the Revolution Bar & Grill and marks the first time the trio will take the stage after unsuccessfully auditioning at the venue 40 years ago.
"In 1977, we auditioned at the Revolution (formerly Past Times Pub) down the road from our house, and didn't get the gig," said The Stray Cats. "Now we're finally coming back!"
SiriusXM subscribers will have the opportunity to win tickets to this private SiriusXM performance through an invitation sent by e-mail to qualified subscribers who have consented to e-mail marketing from SiriusXM and who have registered their music interests with at siriusxm.com/perks. Additionally, subscribers since June 13, 2019 will be able to enter for the chance to win a trip for two to Massapequa, NY including airfare, hotel stay, and a pair of tickets to SiriusXM Presents The Stray Cats at Revolution in Long Island. See Official Rules for complete details at siriusxm.com/StrayCats.
Outlaw Country:
8/5 at 8 pm ET (PREMIERE)
8/7 at 10 pm ET
8/10 at 12 am ET
8/11 at 12 pm ET
Underground Garage:
8/5 at 8pm ET
1st Wave:
8/6 at 9a ET / 6 Pacific
8/8 at 9p ET / 6 Pacific
8/9 at 4p ET / 1 Pacific