SETZER GOES INSTRU-MENTAL! REISSUED ON YELLOW-SPLATTER VINYL FOR ITS 10TH ANNIVERSARY!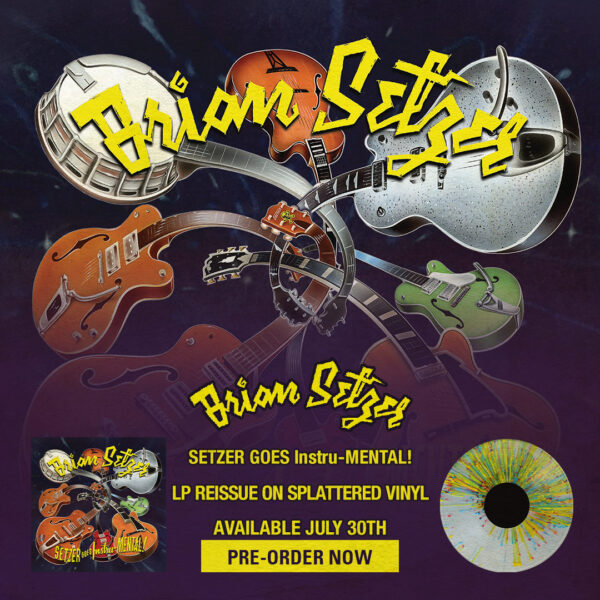 Surfdog Records and Brian Setzer have announced the vinyl reissue of "Setzer Goes Instru-MENTAL!" commemorating the 10th anniversary of its original release. It will be released on limited-edition 180-gram, yellow splatter vinyl on 30th July 2021!
Pre-order yours today by clicking HERE!
Originally released in April 2011, Setzer Goes Instru-MENTAL! was Brian Setzer's first ever instrumental album and earned him a Grammy Award Nomination for "Best Pop Instrumental Album."
The album featured covers such as Bill Monroe and The Blue Grass Boys "Blue Moon of Kentucky," a song covered by Elvis Presley in 1954 as the B-Side of his debut single "That's All Right." Talking to MusicRadar on the release Setzer said, "I was working off the Elvis version, the whole Scotty Moore thing. It's a traditional bluegrass song, so I put some jazz chords behind it. All of a sudden, I had something unique. That's what makes it worthy. You can't do it better than Elvis!"
Tracklisting:
1. Blue Moon Of Kentucky
2. Cherokee
3. Be-Bop-A-Lula
4. Earl's Breakdown
5. Far Noir East
6. Intermission
7. Go-Go Godzilla
8. Lonesome Road
9. Hillbilly Jazz Meltdown
10. Hot Love
11. Pickpocket