Rusty Anderson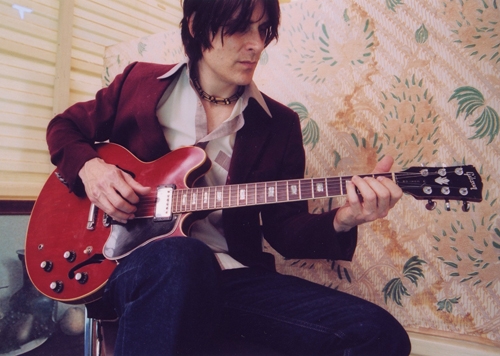 rustyanderson.com | Facebook | Twitter | MySpace | Amazon.com | iTunes
Guitarist and songwriter Rusty Anderson is a musician who has balanced a well-respected career on his own with a very successful part-time gig as a sideman and studio musician, which has seen him work with everyone from Paul McCartney to Neil Diamond.
Anderson was guitarist and songwriter with the alternative rock band Ednaswap, who released three albums between 1995 and 1998, but received their greatest success through another artist when Natalie Imbruglia scored an international hit with the song "Torn," originally recorded by Ednaswap on their album Wacko Magneto. In 1999, Ednaswap broke up, the same year that Anderson once again found himself being heard all around the world through someone else's record when he contributed the guitar solo to Ricky Martin's breakthrough hit "Livin' la Vida Loca."
Anderson was invited to play guitar on Paul McCartney's album Driving Rain and subsequently signed on as a guitarist with McCartney's road band for his world tour, which was documented on the albums Back in the US and Back in the World. Anderson later appeared on McCartney's 2005 release Chaos and Creation in the Backyard, and again joined the ex-Beatle for his subsequent road work.
In 2003, Anderson finally released his first solo album, Undressing Underwater on Surfdog Records, which featured contributions from  McCartney, Stewart Copeland, David Kahne, and a number of other musicians who'd worked with him over the years. Anderson continued to be an in-demand guitar player, and it was seven years before he released his sophomore album, Born on Earth, in 2010.
In the spring of 2013, under a new moniker "Rusty Anderson Afternoon," Anderson released his new single "Effortless."