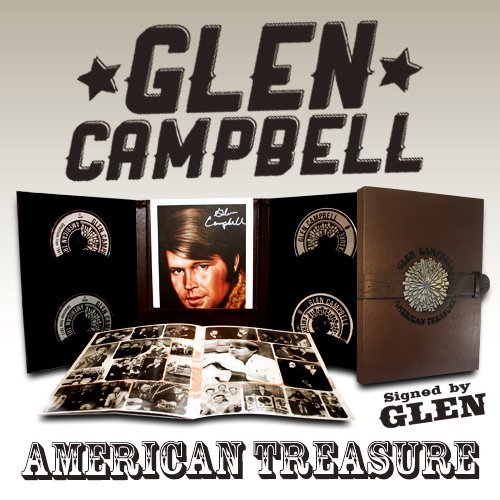 Glen Campbell – American Treasure
Released: February 2, 2012
To pay tribute to Glen Campbell's legacy, Surfdog Records is offering a Very Special Limited Edition Box Set — only 1000 made.
GLEN CAMPBELL ~ AMERICAN TREASURE
Surfdog is very proud to announce our special tribute to the legendary Glen Campbell, celebrating a lifetime of hits and his unforgettable contributions to the world of music!
In honor of this musical legend, this extraordinary Box Set includes:
A beautifully bound tri-fold hardcover.
An authentic HAND-SIGNED lithograph of exclusive painting of Glen's portrait.
2 CD's jam-packed with Glen's most renowned hits, including "Rhinestone Cowboy," "Southern Nights," and "Wichita Lineman."  As well as fan favorites, career gems and early works uncovered and only available in this box set.
An additional disc that features his most memorable guitar work as one of the most in-demand session players of the 60's, on a myriad of iconic songs never-before compiled in one place; including Elvis Presley's "Viva Las Vegas," The Monkee's "I'm a Believer,"  The Champs "Tequila," Jan and Dean's "Surf City," Beach Boys, Frank Sinatra and many more.
Invaluable DVD you can't find anywhere else that captures some of Glen's best comedic and musical performances from The Glen Campbell Goodtime Hour Variety TV Show!  Including appearances by John Wayne, Stevie Wonder, Johnny Cash, Ray Charles, Willie Nelson, Cher and more!
Custom die-cut heavy-duty Goodtime Burst logo belt buckle.
Commemorative Limited Edition "American Treasure" Version of the Goodbye Tour Program.
Replica guitar pick just like the one used by the man himself.
From a meager beginning as the seventh son of an Arkansas sharecropper, Glen Campbell navigated his way to a stellar music career as a studio guitarist playing on some of the most well-known recordings in popular music such as The Beach Boys' "Pet Sounds" and Frank Sinatra's "Strangers in the Night." As a solo artist, Campbell racked up hit after hit, including "Gentle on My Mind," "Wichita Lineman," "Galveston," "Southern Nights," and of course "Rhinestone Cowboy."  Glen made his network television debut as host of "The Glen Campbell Goodtime Hour" which featured comedy sketches with Bob Newhart, John Wayne, and Flip Wilson, as well as musical performances by the likes of Ray Charles, Willie Nelson, Johnny Cash and many more. Throughout his career, Glen sold over 50 million albums, won 8 Grammys, and had over 81 songs on the charts!  Glen Campbell is an icon.  Glen Campbell is an American Treasure.
*Materials and package contents subject to change.
DISC 1 (1961 – 1976)
DEATH VALLEY
WINKIE DOLL
BRENDA
BUZZ SAW
TOO LATE TO WORRY, TOO BLUE TO CRY
GUESS I'M DUMB
GENTLE ON MY MIND
CRYIN'
BY THE TIME I GET TO PHOENIX
THE IMPOSSIBLE DREAM (THE QUEST)
THE LEGEND OF BONNIE AND CLYDE
LESS OF ME
WICHITA LINEMAN
ALL I HAVE TO DO IS DREAM
GALVESTON
WHERE'S THE PLAYGROUND SUSIE
TRUE GRIT
WILLIAM TELL OVERTURE
TRY A LITTLE KINDNESS
HE AIN'T HEAVY, HE'S MY BROTHER
BRING BACK THE LOVE
LAST TIME I SAW HER
I KNEW JESUS BEFORE HE WAS A STAR
IF NOT FOR YOU
ARKANSAS
COUNTRY BOY (YOU'VE GOT YOUR FEET IN L.A.)
RHINESTONE COWBOY
DISC 2 (1977 – PRESENT)
SOUTHERN NIGHTS
GOD MUST HAVE BLESSED AMERICA
CAN YOU FOOL
ANOTHER FINE MESS
HIGHWAYMAN
HOUND DOG MAN
SOMETHIN' 'BOUT YOU BABY I LIKE
I LOVE MY TRUCK
IT'S JUST A MATTER OF TIME
STILL WITHIN THE SOUND OF MY VOICE
LIGHT YEARS
SHE'S GONE GONE GONE
JESUS ON YOUR MIND
I'M GONE THIS TIME
SWIMMING UPSTREAM
WALLS
SING
GROW OLD WITH ME
A BETTER PLACE
GHOST ON THE CANVAS
IN MY ARMS
THERE'S NO ME WITHOUT YOU
SESSION WORKS (FEATURING SELECTIONS FROM GLEN CAMPBELL'S DAYS AS A SESSION PLAYER)
THE CHAMPS "TEQUILA"
THE CRICKETS "DON'T EVER CHANGE"
APRIL STEVENS & NINO TEMPO "DEEP PURPLE"
WAYNE NEWTON "DANKE SCHOEN"
THE MARKETTS "OUT OF LIMITS"
JAN & DEAN "SURF CITY"
JACK NITZSCHE "THE LONELY SURFER"
THE BEACH BOYS "I GET AROUND"
THE HONDELLS "LITTLE HONDA"
THE KNIGHTS "HOT ROD HIGH"
THE RIP CHORDS "HEY LITTLE COBRA"
THE RIGHTEOUS BROTHERS "YOU'VE LOST THAT LOVING FEELIN'"
ELVIS PRESLEY "VIVA LAS VEGAS"
THE EVERLY BROTHERS "MONEY (THAT'S WHAT I WANT)"
THE MONKEES "I'M A BELIEVER"
THE MONKEES "LAST TRAIN TO CLARKSVILLE"
THE BEACH BOYS "GOOD VIBRATIONS"
NANCY SINATRA "SUGAR TOWN"
FRANK SINATRA "STRANGERS IN THE NIGHT"
GENE CLARK "KEEP ON PUSHIN'"
TOM SCOTT AND THE CALIFORNIA DREAMERS "BABY I LOVE YOU"
THE MONKEES "MARY, MARY"
QUINCY JONES FT. GLEN CAMPBELL "BOWLEGGED POLLY"
SAGITTARIUS "MY WORLD FELL DOWN"
THE GOODTIME HOUR VARIETY SHOW DVD (SELECT PERFORMANCES FROM THE HIT TELEVISION SHOW)
GLEN CAMPBELL "WICHITA LINEMAN"
THE MONKEES "LAST TRAIN TO CLARKSVILLE / I'M A BELIEVER / SALESMAN"
JOSE FELICIANO "CALIFORNIA DREAMIN'"
STEVIE WONDER WITH GLEN CAMPBELL "BLOWIN' IN THE WIND"
RAY CHARLES WITH GLEN CAMPBELL "CRYIN' TIME / I'M MOVING ON"
NANCY SINATRA "SON OF A PREACHER MAN"
JOHNNY CASH "FOLSOM PRISON BLUES"
BOB NEWHART WITH GLEN CAMPBELL "RAILROAD WORKERS"
THE RIGHTEOUS BROTHERS WITH GLEN CAMPBELL "BYE, BYE LOVE"
GLEN CAMPBELL AND HIS PARENTS (WES & CARRIE) "ALIMONY / MY GOOD OLD TEXAS HOME"
GOLDIE HAWN WITH GLEN CAMPBELL "59TH STREET BRIDGE SONG (FEELING GROOVY)"
STEVE MARTIN AND THE SMOTHERS BROTHERS WITH GLEN CAMPBELL "COURT JESTER"
SARAH VAUGHAN WITH GLEN CAMPBELL "BROKEN-HEARTED MELODY"
CHER WITH GLEN CAMPBELL "BANG BANG"
DIONNE WARWICK WITH GLEN CAMPBELL "GET TOGETHER"
LINDA RONSTADT WITH GLEN CAMPBELL "SILVER THREADS & GOLDEN NEEDLES"
WILLIE NELSON WITH GLEN CAMPBELL "HELLO WALLS"
TONY BENNETT WITH GLEN CAMPBELL (HANK WILLIAMS MEDLEY) "COLD COLD HEART / I'M SO LONESOME I COULD CRY / YOUR CHEATIN' HEART / I CAN'T HELP IT (IF I'M STILL IN LOVE WITH YOU) / KAW-LIGA / HEY GOOD LOOKIN / JAMBALAYA"
ANDY GRIFFITH WITH GLEN CAMPBELL "THE TWELVE DAYS OF CHRISTMAS"
RAY CHARLES WITH GLEN CAMPBELL "TOGETHER AGAIN / I CAN'T STOP LOVING YOU / YOU ARE MY SUNSHINE / I GOT A WOMAN"
BOBBIE GENTRY WITH GLEN CAMPBELL "SUNDAY MORNIN'"
JUDY COLLINS WITH GLEN CAMPBELL "FOUR STRONG WINDS"
BUCK OWENS WITH GLEN CAMPBELL "I'VE GOT A TIGER BY THE TAIL"
KENNY ROGERS & THE FIRST EDITION WITH GLEN CAMPBELL "CAMPTOWN RACES"
THE SUPREMES WITH GLEN CAMPBELL "HOMEWARD BOUND / KEEP THE CUSTOMER SATISFIED"
DEAN MARTIN WITH GLEN CAMPBELL "(OPEN UP THE DOOR) LET THE GOOD TIMES IN / LAY SOME HAPPINESS ON ME / THINGS / WALK THE LINE"
GLEN CAMPBELL AND FAMILY "CAROL OF THE BELLS"
SONNY & CHER WITH GLEN CAMPBELL "SHAKE, RATTLE & ROLL / TWEEDLEE DEE / BLUE SUEDE SHOES / YAKETY YAK / YOUNG LOVE / GET A JOB / LITTLE DARLIN' / I'M WALKIN'"
THE OSMOND BROTHERS WITH GLEN CAMPBELL "PUT YOUR HAND IN THE HAND OF THE MAN"
JOHN WAYNE AND TIM CONWAY WITH GLEN CAMPBELL "BROKEN PROPS SKETCH"
JOHN WAYNE AND GLEN CAMPBELL CHAT ABOUT WORKING TOGETHER IN FILM "TRUE GRIT"
LUCILLE BALL WITH GLEN CAMPBELL "FOR ALL WE KNOW"