'REEFERS BY SUBLIME' CANNABIS LINE – NOW AVAILABLE AT SELECT SOUTHERN CALIFORNIA DISPENSARIES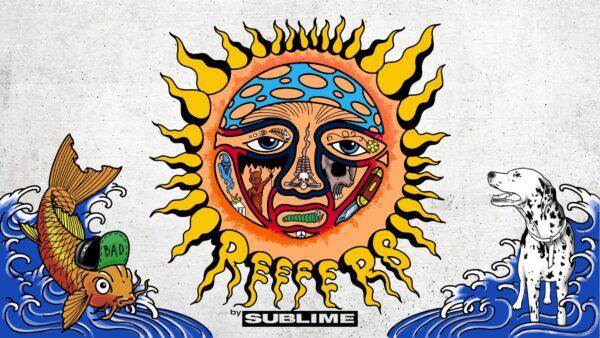 Iconic band Sublime are kicking off the new year by launching their official cannabis line 'REEFERS By Sublime.' The first available offering from 'REEFERS By Sublime' is the 'Smoke Two Joints' two-pack of curated cannabis pre-rolls, exclusively available now at select Southern California licensed retail dispensaries including 420 Central in Orange County. This is the official launch of its first offering for the band's line of legal, high quality cannabis products through a strategic partnership with Costa Mesa's The Healing Plant, a licensed manufacturer of cannabis products for California's adult use and medical marijuana marketplace. For more information, please visit www.reefersbysublime.com.
According to Sublime's Bud Gaugh, "Holistic wellness. Medical necessity. Adult preference. Whatever your need or personal choice, Sublime has its own weed now and it is quality! Vested and tested, by me, try 'em and see!"
Sublime's Eric Wilson adds, "Cannabis culture has been a part of Sublime since the beginning, and I'm stoked that we now have our own line of products. Cannabis takes me to that place when we were kids in the garage, playing music for ourselves. REEFERS is for anyone whether it's used for relief, creativity, alternative medicine or to chill out."
REEFERS by Sublime feature signature strains of premium California cannabis grown by Top Shelf Cultivation in Long Beach, a family-owned and operated licensed cultivator renowned for its award-winning, proprietary marijuana strains. Each strain used for REEFERS is approved by the band. REEFERS come in Morning, Noon and Night versions to align with strain specific properties.
"Sublime has a legacy with cannabis that has spanned decades, steeped in positivity and its soulful importance to the reggae culture that was such an influence on their music and lifestyle," said Troy Nowell, widow of lead singer Bradley Nowell representing his legacy with their son Jakob Nowell. "For Jakob and I, this is an opportunity to continue nurturing the memory of Brad and his musical gifts with a global community of family and friends. We are extremely encouraged by the positive impacts shown by cannabis in helping recovering opioid addicts, its medicinal benefits for a host of debilitating conditions, and its ability to provide holistic relief for many using its properties to achieve mental wellness."
"This is a labor of love working with Sublime, a band that I have loved since I was young and that is beloved around the world, especially in the cannabis culture," said Robert Taft, founder and CEO of The Healing Plant, who with business partner Robert Knohl, managing partner at R2 Capital Holdings LLC, will develop, source, and fulfill products for the Sublime cannabis line. "We are launching the REEFERS line with pre rolls and high-quality flower, and we are in the final stages of developing a full line of lab tested, top quality concentrates, tinctures and even edibles to add to the Sublime line in 2023!"
According to Brian Danaher, co-founder of Top Shelf Cultivation, "Top Shelf is a family-owned and operated cannabis cultivation from Long Beach focused on superior craft, attention to detail, and high quality, proprietary strains. Sublime is embedded in the DNA of our Long Beach cannabis culture and community. This is a family affair and all love for the plant and culture. It's an honor to grow and share our very best strains as part of the Sublime REEFERS line."