Glen Campbell – Ghost On The Canvas Limited Edition Deluxe Package (Signed by Glen!!) – SOLD OUT!
SOLD OUT!
This is the legendary Glen Campbell's final studio album. During his 50 years in show business, Campbell has sold 45 million records with hits like "Wichita Lineman," "Gentle On My Mind," "Rhinestone Cowboy," and tons more. "Ghost On The Canvas" is his "farewell album," a deep, meaningful look back at his career/life with contributions by the artists he continues to inspire. Simply put, Ghost On the Canvas is the album of Glen Campbell's life.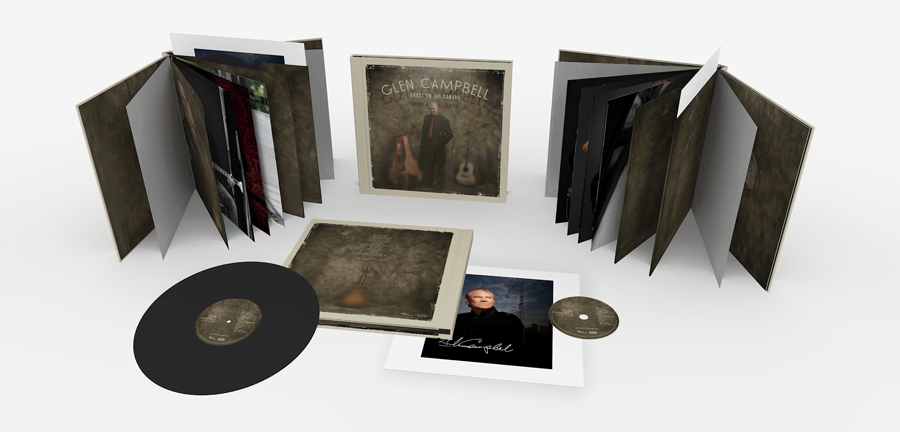 This limited edition deluxe version of Glen Campbell's "Ghost On The Canvas" is a remarkable and memorable presentation of his final studio album. Glen will sign a limited number of these deluxe packages!
"I still love making music. And I still love performing for my fans. I'd like to thank them for sticking with me through thick and thin…I'm at peace with the world. This is the happiest time of my life" – Glen Campbell 
Glen Campbell – "Ghost On The Canvas"
Limited Edition Deluxe Package Of Glen's Final Studio Album
 All Beautifully Bound in Hardback Book – This Set Includes:
5 Bonus Tracks of some of Glen's All-time Greatest Hits as performed on The Goodtime Hour
A Limited Number of Hand-signed Lithograph Editions will be available!!
Side A:
A Better Place (1:51)
Ghost On The Canvas (4:13)
The Billstown Crossroads (1:04)
A Thousand Lifetimes (4:09)
It's Your Amazing Grace (3:14)
Second Street North (0:35)
In My Arms (3:27)
May 21st, 1969 (0:34)
Side B:
Nothing But The Whole Wide World (1:51)
Wild And Waste (1:13)
Hold On Hope (3:33)
Valley Of The Son (0:57)
Any Trouble (3:00)
Strong (3:33)
The Rest Is Silence (0:50)
There's No Me… Without You (6:16)