Eric Clapton & Friends – The Breeze (An Appreciation of JJ Cale) Special Edition 4-LP Set (SOLD OUT!)
Eric Clapton & Friends
The Breeze (An Appreciation of JJ Cale) Special Edition 4-LP Set
$65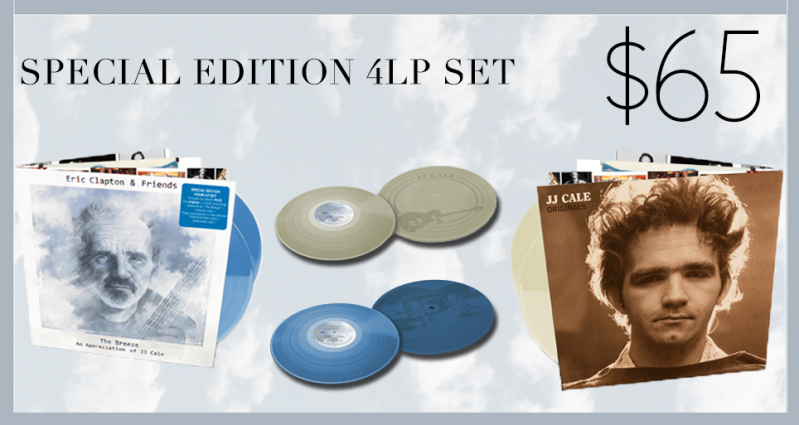 Eric Clapton has often stated that JJ Cale is one of the single most important figures in rock history, a sentiment echoed by many of his fellow musicians. Cale's influence on Clapton and many of today's artists cannot be overstated. To honor JJ's legacy, a year after his passing, Clapton, along with a group of like-minded friends and musicians, is releasing Eric Clapton & Friends "The Breeze (An Appreciation of JJ Cale)." With performances by Clapton, Mark Knopfler, John Mayer, Willie Nelson, Tom Petty, Derek Trucks, Don White and others, the album features beloved JJ Cale songs and is named for the 1972 single "Call Me The Breeze." See below for details.
Special Edition 4-LP Set includes:
• 4 collectible colored LPs with etchings of JJ Cale's guitar
• Eric Clapton & Friends The Breeze (An Appreciation of JJ Cale) album
• Double LP of JJ Cale's original versions from The Breeze.
Including three unreleased songs.
• Extended liner notes
• Photos
• MP3 download card of both albums
LP TRACKLISTS:
Eric Clapton & Friends
The Breeze (An Appreciation of JJ Cale)
SIDE A:
Call Me The Breeze
Rock And Roll Records (feat. Tom Petty)
Someday (feat. Mark Knopfler)
Lies (feat. John Mayer)
Sensitive Kind (feat. Don White)
SIDE B:
Cajun Moon
Magnolia (feat. John Mayer)
I Got The Same Old Blues (feat. Tom Petty)
Songbird (feat. Willie Nelson)
Since You Said Goodbye
I'll Be There (If You Ever Want Me) (feat. Don White)
SIDE C:
The Old Man And Me (feat. Tom Petty)
Train To Nowhere (feat. Mark Knopfler and Don White)
Starbound (feat. Willie Nelson and Derek Trucks)
Don't Wait (feat. John Mayer)
Crying Eyes (feat. Christine Lakeland and Derek Trucks)
JJ Cale
Originals
SIDE A:
Call Me The Breeze
Rock And Roll Records
Someday (Unreleased Demo)
Lies
Sensitive Kind
SIDE B:
Cajun Moon
Magnolia
I Got The Same Old Blues
Songbird (Unreleased Demo)
Since You Said Goodbye
I'll Be There (If You Ever Want Me)
SIDE C:
The Old Man And Me
Train To Nowhere (Unreleased Demo)
Starbound
Don't Wait
Crying Eyes