Eurythmics Legend Dave Stewart Announces Eurythmics Songbook: Sweet Dreams 40th anniversary UK and European Tour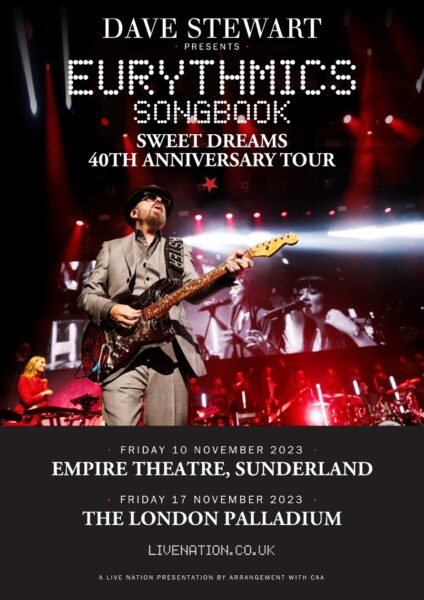 Eurythmics Songbook tour marks first time in more than 20 years fans can see a full length show of Eurythmics classics – performed on tour by Stewart and full live band.
Dave Stewart, the award-winning singer, songwriter, musician, producer, innovator and Eurythmics co-founder, is set to captivate audiences across Europe once again as he announces "Eurythmics Songbook: Sweet Dreams 40th Anniversary Tour." Featuring Dave alongside an all female band of virtuoso singers and musicians, the tour promises to take fans on a nostalgic and electrifying musical journey spanning four decades of the iconic musical partnership's groundbreaking hits.
Celebrating a remarkable 40 years since the release of the timeless Sweet Dreams (Are Made Of This), Eurythmics, known for their unique blend of synth-pop, new wave, soul and rock, have sold over 75 million albums worldwide since their 1980's debut and have become enduring icons of popular music.
Following a highly acclaimed one-off Eurythmics Songbook show at London's Royal Festival Hall in 2019 and with the blessing of musical partner Annie Lennox, who no longer tours, Stewart has decided to take the show on the road. This show garnered some rave reviews:
• "Sweet dreams of synthpop heaven." — The Guardian
• "Heart stopping performances." — The Sunday Times
• "A night of musical joy." — The Weekender, London
• "Serious passion in this house…ticker tape was flying in celebration of fandom, friendship and fabulous song craft." — The Telegraph
The duo, who still come together for one off performances, such as for their induction last year into the prestigious Rock and Roll Hall of Fame, are delighted to be celebrating this landmark anniversary of Sweet Dreams and Stewart is relishing the chance to play a carefully curated selection of timeless hits from their extraordinary catalogue of songs, live on tour for the first time in over 20 years.
Stewart comments:
"I love playing live shows and am so excited to be onstage with this amazing lineup of musicians and singers most of whom I have performed with on many occasions. My great friend Vanessa Amorosi an Australian legend known for her powerful vocal prowess , RAHH a brilliant artist/singer from Warrington with whom I've recorded and performed with for nearly 10 years and my daughter (Annie's goddaughter) Kaya Stewart who was singing "There Must Be An Angel" on Annie's knee since she was 5 yrs old and since 14 years old has performed 100's of solo shows wowing crowds with her very soulful and emotional voice. Choosing a band that are all outstanding female musicians led by the brilliant keyboardist Hannah Koppenburg is my way of paying homage to my great friend and collaborator Annie Lennox."
The tour is set to be a fitting testament to the enduring impact of Eurythmics' music and the duo's lasting influence on the global music landscape. Eurythmics Songbook: Sweet Dreams 40th Anniversary Tour hits the UK in November, when fans can see Dave and the band performing in his home town of Sunderland and in London, as part of Europe wide tour.
"Eurythmics Songbook: Sweet Dreams 40th Anniversary Tour" promises an unforgettable experience, featuring state of the art production and visuals, and a myriad of mega-hits including: "Sweet Dreams (Are Made of This)," "Here Comes The Rain Again," "Love Is A Stranger", "Would I Lie To You", "Missionary Man" and "There Must Be An Angel (Playing With My Heart)".
Full UK/European Tour Dates:
10th November – Sunderland Empire
17th November – London Palladium
7th November – Baloise, Basel, Switzerland
10th November – Sunderland Empire, Sunderland, UK
13th November – Salle Pleyel, Paris, France
14th November – La Madeleine, Brussels, Belgium
15th November – Mitsubishi Electric Halle, Dusseldorf, Germany
17th November – London Palladium, London, UK
25th November – Konzerthaus, Vienna, Austria
26th November – myticket Jahrhunderthalle, Frankfurt, Germany
27th November – Tempodrom, Berlin, Germany
28th November – Vredenburg, Utrecht, Netherlands
Ticket Information:
Tickets for the "Eurythmics Songbook: Sweet Dreams 40th Anniversary European Tour" will go on sale Wednesday September 6th at 12:00 noon. See HERE for details and tickets.
"Sweet Dreams (Are Made Of This)" by Eurythmics was recently inducted into the GRAMMY Hall of Fame® in recognition of its qualitative and historical significance, as well as being placed placed in The Library of Congress as an audio treasure worthy of preservation for all time based on its cultural, historical and aesthetic importance in USA's recorded sound heritage. Dave Stewart and Annie Lennox were among the 2020 inductees into the Songwriters Hall of Fame with a ceremony taking place in June 2022. Most recently in November 2022, Eurythmics were inducted into the prestigious Rock and Roll Hall of Fame for their profound impact on music, with the band performing a stellar set at the TV broadcast ceremony.