Eric Clapton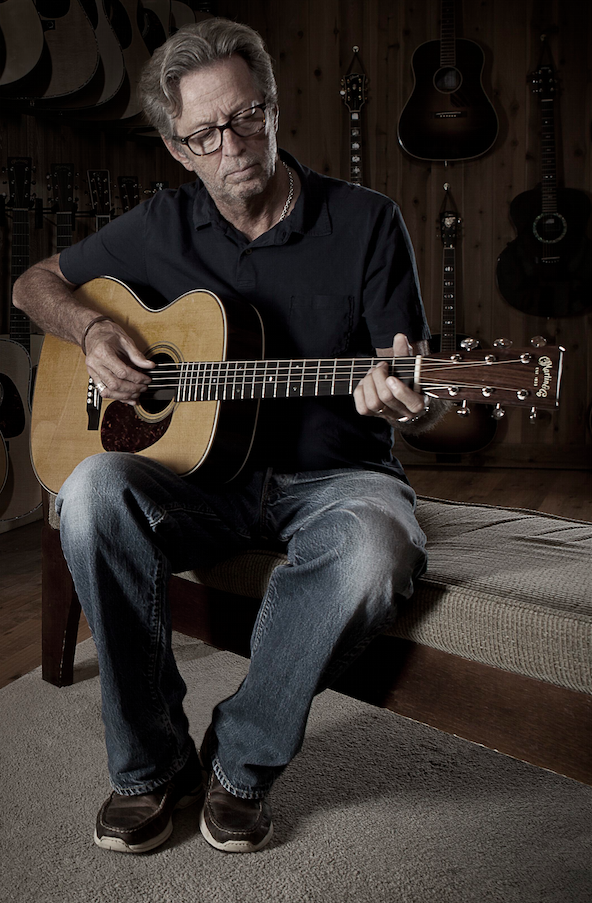 Music legend Eric Clapton has reunited with famed producer Glyn Johns for his 23rd studio album I Still Do on his Bushbranch Records/Surfdog Records. Clapton and Johns – who has also produced albums for The Eagles, The Rolling Stones, Led Zeppelin and The Who – most famously worked together on Clapton's iconic Slowhand album, which is RIAA-certified 3x-platinum and topped charts globally. The 12-track record includes some original songs written by Clapton. This album follows his last release, the 2014 chart-topping Eric Clapton & Friends: The Breeze, An Appreciation of JJ Cale.
"This was a long and overdue opportunity to work with Glyn Johns again, and also, incidentally, the fortieth anniversary of 'Slowhand'!" said Eric Clapton.
The album's artwork – a carefully crafted illustration of Clapton – is the work of esteemed artist Sir Peter Blake, whose previous art includes the co-design of The Beatles' Sgt. Pepper's Lonely Hearts Club Band album sleeve, as well as the Band Aid single "Do They Know It's Christmas?," Paul Weller's Stanley Road and The Who's Face Dances. I Still Do features Blake's signature at the bottom right corner of the cover.
After his time with the Yardbirds in 1963, Clapton began a career as a professional musician that has seen numerous bands, an abundance of albums, countless worldwide sold out shows, an impressive array of accolades, unwavering critical acclaim and his consistent display of legendary guitar work. Clapton's career has resulted in 18 Grammy Awards and the distinct honor of being the only triple inductee into the Rock & Roll Hall of Fame.
AVAILABLE NOW
I STILL DO TRACK LISTING:
1. Alabama Woman Blues
2. Can't Let You Do It
3. I Will Be There
4. Spiral
5. Catch The Blues
6. Cypress Grove
7. Little Man, You've Had a Busy Day
8. Stones In My Passway
9. I Dreamed I Saw St. Augustine
10. I'll Be Alright
11. Somebody's Knockin'
12. I'll Be Seeing You
Eric Patrick Clapton was born on 30 March 1945 in his grandparents' home at 1 The Green, Ripley, Surrey, England. He was the son of 16-year-old Patricia Molly Clapton (b. 7 January 1929, d. March 1999) and Edward Walter Fryer (b. 21 March 1920, d. 1985), a 24-year-old Canadian soldier stationed in England during World War II. Before Eric was born, Fryer returned to his wife in Canada. Eric was raised in a musical household. His grandmother played piano and his uncle and mother both enjoyed listening to the sounds of the big bands. Pat later told Eric's official biographer, Ray Coleman, that his father was a gifted musician, playing piano in several dance bands in the Surrey area. By 1958, Rock and Roll had exploded onto the world. For his 13th birthday, Eric asked for a guitar. Finding the inexpensive German-made Hoyer difficult to play – it had steel strings – he put it aside. In 1961, when he was 16, Eric began studying at the Kingston College of Art on a one-year probation. He was expelled at the end of that time for lack of progress as he had not submitted enough work. The reason? Guitar playing and listening to the blues dominated his waking hours.
Typical of his introspective nature, Eric looked beneath the surface and explored the roots of rock in American Blues. The blues also meshed perfectly with his self-perception as an outsider and of being "different" from other people. Sometime in 1962, he asked for his grandparents' help in purchasing a £100 electric double cutaway Kay (a Gibson ES-335 clone) after hearing the electric blues of Freddie King, B.B. King, Muddy Waters, Buddy Guy, and others. Eric spent his early days in music busking around Richmond and Kingston, he also began spending time in London and the West End. In early 1963, 17 year-old Eric joined his first band, The Roosters. Following the band's demise in August 1963, he spent one month in the pop-oriented Casey Jones and The Engineers. Before turning to music as a full-time career, he supported himself as a laborer at building sites, working alongside his grandfather, a master bricklayer and plasterer.
In October 1963, Keith Relf and Paul Samwell-Smith recruited him to become a member of The Yardbirds because Clapton was the most talked about guitar player on the R&B pub circuit. During his 18-month tenure with The Yardbirds, he earned his nickname, Slowhand, and recorded his first albums: Five Live Yardbirds and Sonny Boy Williamson and The Yardbirds. The band also recorded the single, "Good Morning Little Schoolgirl". But, Eric had not abandoned his serious research into the American Blues. When The Yardbirds began moving towards a more commercial sound with "For Your Love", he quit. His path in music was the blues. In April 1965, John Mayall invited Eric to join his band, John Mayall'sBluesbreakers. After leaving the Bluesbreakers for a second and final time in July 1966, Eric teamed up with Jack Bruce and Ginger Baker to form Cream. In the summer of 1970, Eric formed Derek and the Dominos with Jim Gordon, Carl Radle and Bobby Whitlock from Delaney & Bonnie's band.
Throughout the 1970s and early 1980s, albums and tours would follow year in and year out. In 1985, Clapton found a new audience following his performance at the worldwide charity concert, Live Aid. Annual stands at the Royal Albert Hall and successful albums like August, Journeyman and the Crossroads box set kept him well in the public mind. In the late 80s, he carved out a second career as the composer of film scores. His career went from strength to strength and reached new heights in 1992 with the release of Unplugged and the Grammy winning single, "Tears In Heaven." In 1994, Eric returned to his blues roots with the release of From The Cradle. 1997 brought an excursion into electronica with the release of TDF's Retail Therapy.
In 1998, he released the soul-influenced Pilgrim, his first album of all new material in nine years. In 2000, he continued his love affair with the blues when he recorded an album with American blues legend, B.B. King. Riding With The King was released in June and within three weeks of release, was certified gold. Reptile was released in March 2001. In late 2002, he began to record a new studio album. Work continued through the summer of 2003 and enough material was recorded for two albums. In addition to new solo material, Eric recorded covers of Robert Johnson songs during these sessions. The Johnson songs were assembled and in March 2004, Eric's tribute album, Me and Mr. Johnson was released. The solo material recorded during these sessions was released in 2005 on Back Home. In his more than 40 year career, Eric Clapton has received many awards. He is the only triple inductee into the Rock & Roll Hall Of Fame (as a member of both the Yardbirds and Cream and as a solo artist). He has also won or shared in eighteen Grammy Awards.
Eric has also contributed to numerous artists' albums over the decades. The most well known session occurred in September 1968, when he added guitar to George Harrison's composition, "While My Guitar Gently Weeps." It is on the album, The Beatles (best known as "The White Album"). He can also be heard on albums by Aretha Franklin, Steven Stills, Bob Dylan, Elton John, Plastic Ono Band (John Lennon and Yoko Ono), Ringo Starr, Sting, and Roger Waters. Eric has always toured extensively performing thousands of concerts around the globe. Recent solo world tours took place in 2001, 2004 and 2006 / 2007 and a 27 date Summer Tour in 2008 which visited the eastern U.S., Canada and Europe. Additionally, in February 2008 Eric performed three concerts with long-time friend Steve Winwood at New York's Madison Square Garden. More info at: www.EricClapton.com