DAVE STEWART RELEASES NEW ALBUM 'THE RINGMASTER GENERAL'!!
DAVE STEWART RELEASES NEW ALBUM 'THE RINGMASTER GENERAL'!!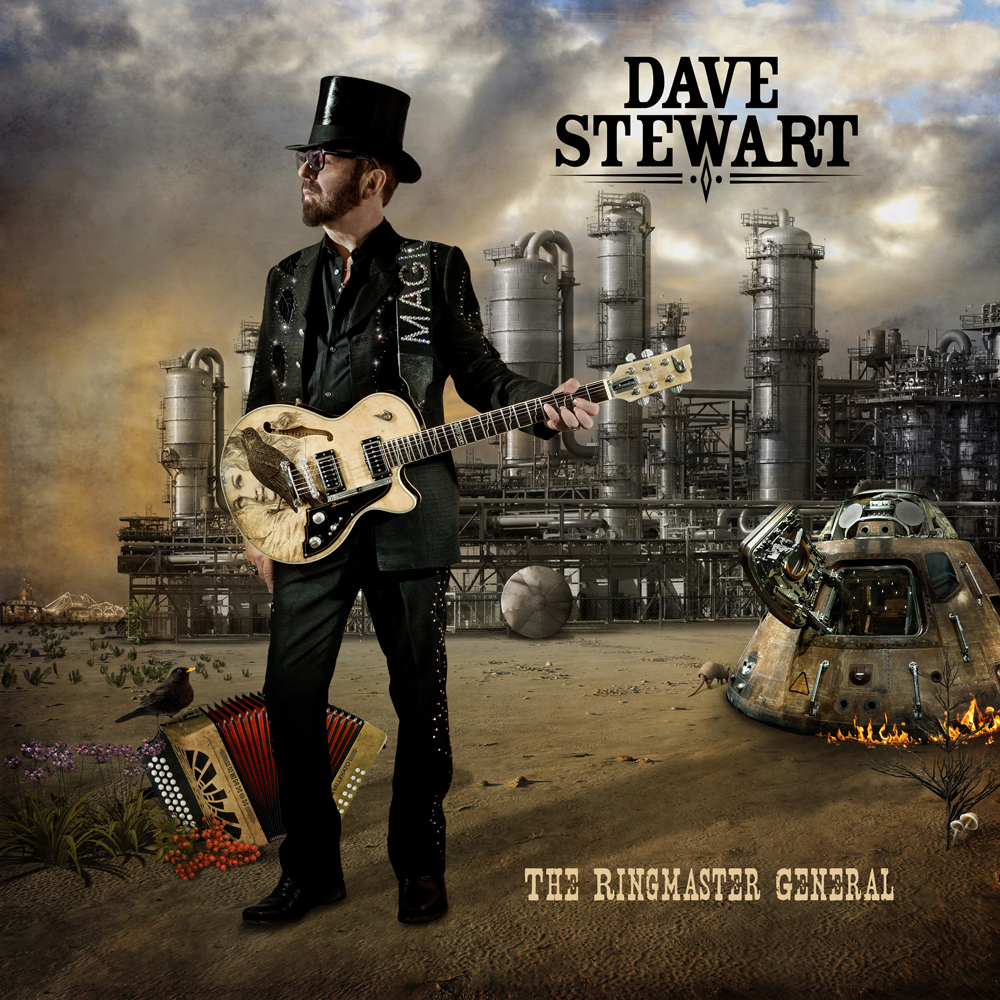 Dave Stewart holds a special place in his heart for Nashville. That's where the legendary British singer, songwriter and guitarist has now recorded two albums: 2011's critically praised The Blackbird Diaries and the forthcoming THE RINGMASTER GENERAL, set for release via Weapons of Mass Entertainment/Surfdog. The album was produced by STEWART and Mike Bradford.
A potent and distinctive musical gumbo with rock, blues, country, rhythm & blues and psychedelia, THE RINGMASTER GENERAL was recorded and mixed by John McBride at the famed studio he owns with Martina McBride, Blackbird Studio. It features 13 new songs–including striking duets with Alison Krauss, Diane Birch and Joss Stone–as well as one sung with and co-written by Jessie Baylin. The blistering guitar skills of Orianthi are featured as well. As with The Blackbird Diaries, STEWART is backed by some of the finest musicians in Nashville including: guitarist Tom Bukovac, drummer Chad Cromwell, bassist Michael Rhodes, steel guitarist Dan Dugmore and Mike Rojas on piano.
Says STEWART: "Well to me Nashville has that electric music energy feeling that you get when you arrive in certain cities or towns like Kingston, Jamaica and Havana in Cuba, except Nashville also has the feeling of being in the heart of a huge country (which it is) and it feels kinda like coming home."
He elaborates: "But it's mainly about the people I work and play with there. I've been so fortunate as to have landed in the arms of the McBrides and becoming part of an extended family. John McBride and I share the same crazy passion for sound and all the guys in the band I record with (and the girls) are up for that wild adventure I like to bring in the studio. All the musicians know I'm going to do lots of different experiments in songwriting and performance and they also know that I don't know what it's gonna be yet so it makes for an interesting time, a white knuckle ride, and a wild party of sound."
STEWART's love for Nashville is captured in the documentary THE RINGMASTER GENERAL. The film will premiere at a VIP event Wednesday, August 22 VIP at Nashville's Belcourt Theatre, with a limited number of general admission tickets to be made available to the public: www.belcourt.org. Each ticket includes a free limited edition vinyl copy of STEWART's album THE RINGMASTER GENERAL.
THE RINGMASTER GENERAL documentary captures STEWART through the whirlwind recording process of two explosive albums. This tongue-in-cheek documentary follows STEWART's adventures in songwriting, letting the viewer witness his eccentric but compelling methods of creativity. The days were filled with mayhem and martinis, while a circus of characters cross STEWART's path; many muses appear to join in the fun including Alison Krauss, Martina McBride, Colbie Caillat, The Secret Sisters, Joss Stone, Stevie Nicks, Jessie Baylin, Diane Birch and Orianthi.
Get your copy here!!