DAVE STEWART CREATES SOLO ACT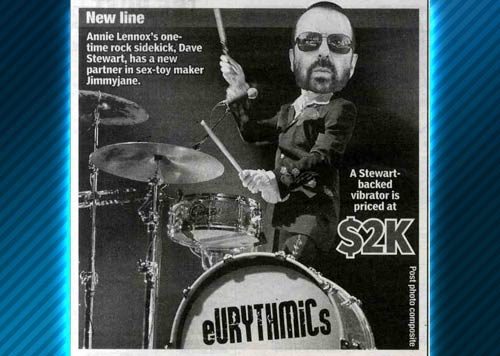 EX-EURYTHMICS ROCKER CREATES A NEW SOLO ACT
BY PETER LAURIA
November 6, 2008
"Sweet Dreams" are made out of good vibrations, evidently.
Eurythmics co-founder Dave Stewart, through his Rock Fabulous merchandising company, has teamed up with sex-toy maker Jimmyjane to create a branded version of the company's best-selling "Little Something" vibrator.
As part of the partnership, Stewart has written a new song called, "Let's Do It Again," that will be available exclusively for download at jimmyjane.com beginning Nov. 18. The title will be inscribed on his new creation.
Also in development is a book on the history of sex and music that will have the sex toy embedded in it.
While Stewart doesn't exactly leap to mind when thinking about sex and rock-and-roll, he said creating a branded toy is a "natural evolution" to his career. He notes that the suit, whip, leather gloves and short hair that Eurythmics singer Annie Lennox donned in the famous 1983 "Sweet Dreams" video – not to mention the sexual subtext of the video – was a bit of a cultural shock that "threw people" at the time.
Moreover, Stewart, who's sold more than 75 million albums, owns a chain of erotic boutiques called Coco der Mer.
But there's an even more basic motive beyond sex for the partnership: money.
The two versions of the Stewart-branded vibrators will be part of Jimmyjane's "premiere collection." A chrome version retails for $195 while a steel model with a base encircled with an "eternity band" of 28 round-cut black diamonds goes for $2,000.
The typical Jimmyjane customer is in their mid-30s, has at least one college degree and features a household income well into the six figures, according to Jimmyjane CEO Ethan Imboden.
Terms of the revenue split between Stewart and the company were not disclosed.
"[This is] for all of us who love the rock lifestyle but are still discerning enough to want the very best whether it's clothes, alcohol, music or vibrators," Stewart said.
http://www.nypost.com/seven/11062008/business/ex_eurythmics_rocker_creates_a_new_solo__137356.htm
Watch Dave's new video for "Let's Do It Again"
Link to the New York Post article