Dan Hicks
danhicks.net | danhicks.tumblr.com | Facebook | MySpace | Amazon.com | iTunes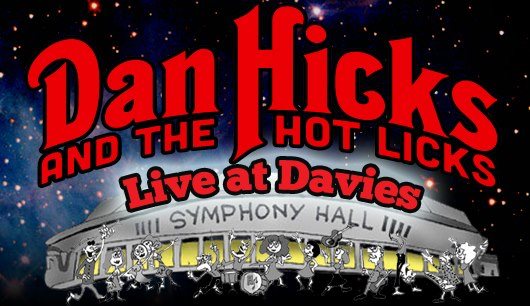 Dan Hicks 70th Birthday celebration album "Live at Davies" with special guest appearances…
In honor of the eternal hipster himself, dozens of stars appeared on stage to celebrate Dan Hicks' 70th birthday! A sold-out crowd at San Francisco's Davies' Symphony Hall enjoyed an incredible evening featuring guest appearances by Rickie Lee Jones, Harry Shearer, Maria Muldaur, Van Dyke Parks, Tuck and Patti, John Hammond, Ramblin' Jack Elliot, and many others! We captured the best of the night with this live CD. It includes several of Dan's biggest hits, as well as some never before released live!
Throughout the 60s and 70s there was no one who sounded at all like Dan Hicks & the Hot Licks, and remarkably, over 40 years later, there still isn't. We now find ourselves again in an age of introspective sensitive singer-songwriters. Luckily for us, throughout the past decade and amidst the new wave of freak folk that prides itself on its eclecticism, Dan has re-assembled the Hot Licks. Getting back into the swing of regularly recording and touring, he has proven once again that the king of hipster-chic will always be Dan Hicks. Show us the way, Dan!
"Dan Hicks is fly, sly, wily and dry!" – Tom Waits
"Dan Hicks is lightning in a bottle." – Bette Midler
"Dan Hicks is an American Treasure." – Elvis Costello
The Dan Hicks Discography includes Original Recordings (with His Hot Licks) (1969), Where's The Money? (with His Hot Licks) (1971), Striking It Rich (with His Hot Licks) (1972), Last Train to Hicksville (with His Hot Licks) (1973), It Happened One Bite (1978), Shootin' Straight (with the Acoustic Warriors) (1994), Beatin' the Heat (with the Hot Licks) (2000), Alive & Lickin' (live album with the Hot Licks) (2001), Dan Hicks and The Hot Licks: Featuring an All-Star Cast of Friends (live CD + DVD) (2003), Selected Shorts (with The Hot Licks) (2004), Tangled Tales (with the Hot Licks) (2009), Crazy For Christmas (2010), and Live at Davies (2013)!