DAN HICKS AND THE HOT LICKS – TANGLED TALES – VINYL WITH CD PRE-SALE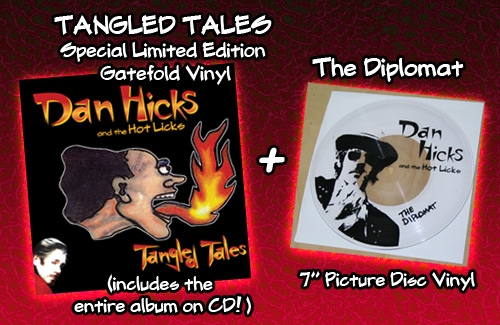 PRE-SALE BUNDLE INCLUDES:
TANGLED TALES LIMITED EDITION GATEFOLD VINYL
+ ENTIRE ALBUM ON CD
+ "THE DIPLOMAT" SINGLE – 7" PICTURE DISC ON CLEAR VINYL!!
Not only will you be able to play the album on your turntable and hear it in all of its true sonic glory, we've also included the entire album on CD so you can crank it in your car, computer, or portable digital device!
When you pre-order you also get "The Diplomat" – the single from Dan's new album. This 7" clear vinyl is so cool… with the song on one side and Dan's "Diplomat" image silkscreened on the other… it's a rare collectible suitable for framing!
This bundle will only be available for pre-sale orders through the Surfdog store. Offer ends 3/24/09.
Orders received by March 17 will ship the Friday before release date! All others will be sent out as soon as humanly possible!
Tracks:
1. Who Are You?
2. The Diplomat
3. Savin' My Lovin'
4. The Blues My Naughty Baby Gave To Me
5. Song For My Father
6. The Rounder
7. 13-D
8. Ragtime Cowboy Joe
9. A Magician
10. Subterranean Homesick Blues
11. Tangled Tales
12. Let It Simmer!
Click here to pre-order the pre-sale bundle:
Dan Hick And The Hot Licks – Tangled Tales –
Vinyl with CD + 7" "The Diplomat" Vinyl
You can optionally pre-order the "Tangled Tales" Vinyl with CD for $15!
Click here to pre-order Dan Hick And The Hot Licks – Tangled Tales –
Vinyl with CD