DAN HICKS AND THE HOT LICKS – TANGLED TALES AVAILABLE NOW!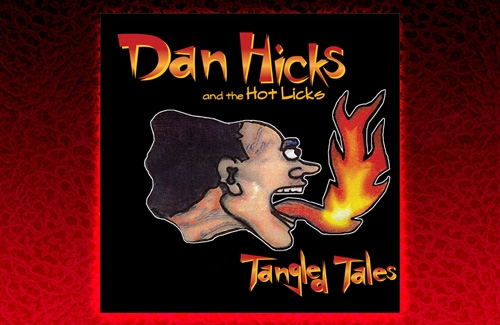 Available Now!
Tangled Tales mashes the outlaw swing music, insightful charm, and brilliant melodies that have endeared Dan to audiences and fellow artists for four decades with his signature understated melancholy that could only be born from a creative genius.
Featuring a world-class collection of musical talent including instrumental virtuosos David Grisman, Charlie Musselwhite, Bruce Forman, and slide-guitarist Roy Rogers, and produced by Grammy-winning roots music producer Chris Goldsmith, Tangled Tales delivers 8 great new original tunes that feel like instant Dan Hicks classics (and some choice cover tunes too).
This album is calculated to keep your toes tappin' and your synapses zappin'.
Purchase the CD at Amazon.com >>
Purchase the Vinyl (Comes with the CD as well!) at Amazon.com >>
Purchase the MP3 Album at Amazon.com >>
Purchase the MP3 Album at iTunes >>
Shop Dan Hicks and the Hot Licks in the Surfdog Shop >>
:: The Tangled Tales Tour ::
Mar. 18 @ KPFA DAVID GAINS' GRATEFUL DEAD HOUR – LIVE PERFORMANCE AND INTERVIEW (AIRED NATIONALLY) – @ 8PM PST
Mar. 21 @ KPIG 'HAM JAM' SHOW – INTERVIEW AND LIVE PERFORMANCE (AFTERNOON PST)
& KWMR (SAN FRANCISCO) – INTERVIEW WITH D. HUNTER – AFTERNOON
Mar. 23 @ KCSM (SAN FRANCISCO) – INTERVIEW WITH CHUY 3/23 AT 3PM (LIVE)
Mar. 22 @ KSAN 107.7 (SAN FRANCISCO) – INTERVIEW WITH JOEL SELVIN FROM SF CHRONICLE (TAPED)
ALSO TO BE AIRED ON KOZT (MENDOCINO, CA)
:: Mar. 24 – TANGLED TALES RELEASE DATE!! ::
Mar. 24 @ KFOG (SAN FRANCISCO) – INTERVIEW AND LIVE PERFORMANCE @ 8AM PST
Mar. 24 @ KRSH (SANTA ROSA) – INTERVIEW AND PERFORMANCE WITH BILL BOWKER @ 5PM
Mar. 24 @ BORDER'S IN-STORE (SANTA ROSA, CA) @ 7PM
Mar. 25 @ BELLY UP TAVERN, SOLANA BEACH, CA
Mar. 26 @ EL REY THEATRE, LOS ANGELES, CA
Mar. 28 @ YOSHI\'S SAN FRANCISCO, CA :: with special guest DAVID GRISMAN ::
Apr. 3 @ ONE LONGFELLOW SQUARE, PORTLAND, ME
Apr. 4 @ BULL RUN, SHIRLEY, MA
Apr. 5 @ IRON HORSE, NORTHAMPTON, MA
Apr. 6 @ BB KING BLUES CLUB, NEW YORK, NY
Apr. 7 @ TURNING POINT, PIERMONT, NY
Apr. 10 @ SELLERSVILLE THEATER, SELLERSVILLE, PA
Apr. 11 @ THE STATE THEATER, FALLS CHURCH, VA
May 13 @ LOGAN SQUARE AUDITORIUM, CHICAGO, IL
May 14 @ TURNER HALL BALLROOM, MILWAUKEE, WI
May 15 @ MAJESTIC THEATER, MADISON, WI
May 16 @ CEDAR CULTURAL CENTER, MINNEAPOLIS, MN