BID ON THE CHANCE TO SEE THE BRIAN SETZER ORCHESTRA'S CHRISTMAS ROCKS! EXTRAVAGANZA @ THE GIBSON AMPHITHEATRE!!!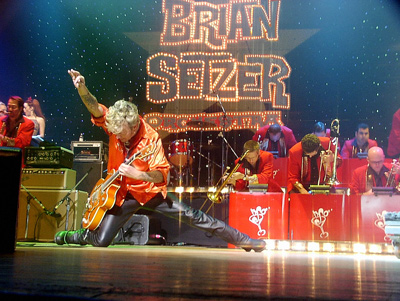 The Brian Setzer Orchestra is playing their 9th annual Christmas Rocks! Extravaganza!!! Help us raise funds (due to cut budgets) for the San Dieguito High School Athletics/Baseball Program. You get to bid on a great cause, helping kids keep the school programs they not only deserve, but need! Every penny will be donated directly to San Dieguito High School Athletics/Baseball Program — Thank you for your support!!
We have one package that will be offered up for bidding, and the winner of the auction will receive the following:
T-shirt, Guitar Pick Pack, Brian Setzer Orchestra CD & DVD, "Songs From Lonely Avenue" Deluxe Box Set, 2 top-tier excellent tickets to Brian's Gibson Amphitheatre show on 12/22/12, along with 2 Laminate passes & a personal escort from Brian's management company to ensure an easy and fun night!!
**Note: Package and laminates do NOT include meeting Brian and are not "all access."